RANTHAK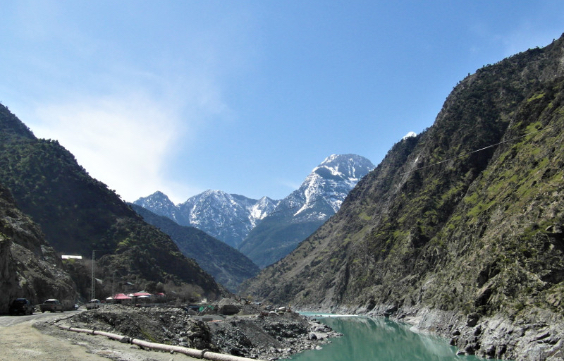 GMC's Ranthak Gold Property is a 10sq.km operational area located in the Ganche district 2.94km from Haldi town.
Haldi-the base of operations is linked to a major international tourist destination namely Skardu via a 175km road passing through Khaplu.
Skardu the divisional headquarters of the Gilgit-Baltistan province is a 715Km drive or a one hour flight from Islamabad the Fedral capital of Pakistan
GEOTECHNICAL FACTS
REGIONAL GEOLOGICAL SET UP
Located in the heart of the Karakoram, on the western side of the Siachen Glacier, one of the two longest glaciers outside the Polar Regions, the Ranthak Gold Property is part of the Main Karakoram Thrust (MKT) that lies between Ladakh and Karakoram terranes.
MKT is 5 Km thick in the east, pinches out to 500 meters moving towards the west and has a faulted contact with the Karakoram Metamorphic rocks which are comprised of phyllites with blocks of serpentinites, talc carbonate schists, green stones and green schists making a typical mélange.
Auriferous oxidized and silicified zones occur along the MKT and range from a few
meters up to 600 meters.
LOCAL GEOLOGICAL SET UP
The Property Area as shown ABCD on the geological map below is covered from the north to south by the rocks of Main Karakoram Thrust Zone (MKTZ) which are composed of green schists, bodies of serpentinites, pyroxinites, talc carbonate and talc chlorite schists. Oxidized and silicified zones containing gold mineralization occur along the MKT Zone.
Further south are the rocks of Ladakh Island Arc which are represented by the Shigar volcanic that consist of basalts, andesites and rhyolites.
GOLD IN THE SOURCE ROCKS
Subsequent to a regional geochemical exploration study, a narrow follow up study of 9 rock chip samples directly taken from only one mineralized zones , out of 10 such already discovered concluded gold values to be between 1.7 to 24gm/ton. In addition, a 90Kg crushed, ground and hand panned bulk sample has yielded 2.2g/t free gold after applying hand panning techniques
RANTHAK IS A PRIME LOCATION IN THE GB PROVINCE
Geological Survey of Pakistan (GSP) during their regional studies from 1959 to 1974 collected river gravel samples from the region that indicated up to 0.3g/t gold in these samples, an indication to conduct detailed studies in the area
Pakistan Mineral Development Corporation (PMDC), in collaboration with Ausaid Australia, conducted regional geochemical exploration studies during
1992-2001 in which the GMC'S M/L property area and its surrounding contiguous drainage catchment cell areas capitulated record values of gold
between 1.6 to 88.5 gms/ton from 8 – 100gms standardized pan concentrate and -80# geochemical samples each representing 2 to 39 sq.km measured
catchment cell areas. In addition, the same samples designated the Property area to contain Copper between 41 to 249, Cobalt 22-59, lead 39-1076,
Molybdinum 1.6-1.8, Nickel 67-166 and Platinum 5 to 12.5 gm/ton values for each sample.
A 90kg bulk sample collected from mineralized zone yielded 2.2g/t gold after being manually crushed, grounded and subjected to traditional panning &
washing techniques.
Geological Survey of Pakistan during geological mapping of the area during the years 2004-2006 collected 30 hard rock samples from the mineralized
source rock, out of which 26 samples yielded gold contents ranging from 1 to 6 g/t.
GMC during 2008 to 2010 collected 6 samples which were tested in Geoscience Labs of GSP and thereafter tested by SGS Canada, which
showed gold contents ranging from 0.5 to 27g/t.
The above tests were conducted in only one zone out of ten mineralized zones, which is an indication of very attractive gold deposits in all ten mineralized zones in the GMC's Property Area
RANTHAK GOLD MINING LEASE LOCATION