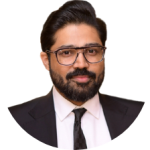 Shahzad Zaheer
Chairman & CE
Mr. Zaheeruddin's eldest son' Mr. Shahzad Zaheer is the current Chairman and Chief Executive of Shahzad International Group of Companies.
Earlier, as a Director he was heading the finance, JV, legal and commercial departments of PEL and its affiliates for 15 years where he was integral to the expansion and diversification of the Group's business operations.
The Chairman and CEO, Mr. Shahzad Zaheer is following the legacy of his father and remains committed to further growth and development of the Group's business ventures.
Chairman's Message
As a recognized name in the oil and gas industry, we have strategically diversified, both geographically and to other sectors of our interest. We have expanded our operations globally in the Kingdom of Morocco, where the government is our partner. In addition, we are also the only licensee for the satellite based DTH distribution in Pakistan – GMC's inception is a direct result of this multi-pronged strategy of growth.
GMC is the realization of one man's vision, Mr. Zaheer-Uddin, to develop an indigenous yet world-class mining corporation. As our Founder- Chairman, he believed in people, his belief was that if you train your people to work hard, to always hold ethical and moral high ground, success is inevitable.
GMC brings the principles that Mr. Zaheer-Uddin espoused, to the mining sector. We strive to contribute to the global mining industry, while promoting emerging local employment opportunities. We aspire to uphold the highest standards of professionalism and good governance. Like many of our other ventures, social responsibility is a top priority for GMC and we aim to leave a positive footprint on this industry as well.
The successful performance in ventures which we have embarked upon is evidence of our stellar business acumen. We aim to utilize state of the art technology, the expertise of our dedicated team of professionals, to establish GMC as an unparalleled powerhouse in the national and global Mining industry.